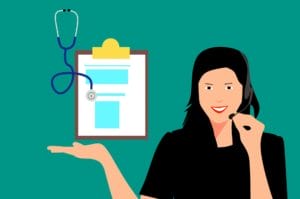 During this time of uncertainty, being able to get medical advice, without infecting others is a high priority.  This means care without leaving home and this is where Teladoc comes into play – online, over the phone and virtual doctor's visits.
Many states have mandated that health insurance plans provide a Teladoc option. Massachusetts mandates that all health plans offer a Teladoc option. Check your states requirements to be sure.
Teladoc gives you and your family an opportunity to have your symptoms assessed without the potential risk of going to a doctor's office. This also gives you an option if you have non-Corona Virus related symptoms/issues to avoid high risk areas and comply with social distancing, but still gives you direct access to a health care professional.   The wide-spread use of Teledoc services will also reduce the strain on the entire health care system because no personal protective equipment is needed, thereby saving masks, gloves, shields and gowns for use on the front line of medical care where they are needed most right now.
It is important for all people on health care plans across the country to reach out to their carrier to see if they provide this type of service.
All in all, telephone doctor services are the perfect service to take advantage of in these strange times, even despite the increased efforts of medical practices to socially distance patients.
Have you used a service like this? Tell us about your experience.