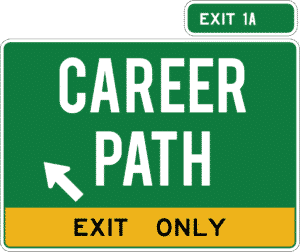 Recently, I was asked if I would like to be on a panel to speak to a group of parents and students at Marlborough High who would be looking for job opportunities potentially right out of school. Reflecting on my own experience and my 'untraditional' career path in to Recruiting, I thought this would be a great way to reach out to some students who are probably on a similar path as I was at that age. In hindsight, I never knew about the many different career paths and job opportunities that were available in Massachusetts, and never knew about how working with a recruiting firm could create new opportunities and experiences. This sounded like a great way to present some knowledge and ideas in front of an entry-level audience.
As I walked in to Marlborough High, I thought about my own high school experiences, and how I never really knew what I wanted to do until several years later. At a previous company I helped a recruiter at a job fair and realized recruiting could be a great fit for my personality.
I was introduced to the hosts and other panelists; another staffing firm, reps and a few local tech companies and associations. As we started to field some of the warm up questions from the hosts I felt very comfortable sharing experiences and hearing thoughts and suggestions from the other panelists. Topics included "What opportunities are out there that do not require a degree? How much income can be made without one? What does an employer expect a resume to look like from an entry-level person, and also what do they not expect to see on there?"
As we wrapped up the conversation for the evening, the biggest message that we were able to provide to our audience was that the unemployment rate is shrinking. Now more than ever companies are looking to hire engaged, punctual, hard-working employees. As long as you could mirror those qualities in the interview there was a high probability of being hired. These companies are rooting for you the second you come through the door, but you need to be present in the process and genuine in your responses. Your resume is a reflection of your work ethic, so there is no margin for error, 'proofread, proofread, proofread!'
As I left I hoped some of the parents and students heard the message and felt less anxious about the transition from school in to the working world. The hosts of the event are eager to put on this event again as the students get closer to graduation, with the hope that more people join to ask their questions and help put a plan in place for their futures. Figuring out a path for your future is not always easy, but it's really encouraging to know that there are people out there that you never met before who care and are willing to help, like the people who were at this event.